Beijing Primary Schools (Changping District)





16,000-23,000RMB monthly salary (GBP1740-2500; USD 2300-3300; EUR2050-3000);




2000-4000RMB monthly housing reimbursement);




6000RMB flight reimbursement;




Around 2 months' paid summer holiday (half base salary);




Around 1 month's winter holiday;




Other Chinese public holidays fully paid;




24 teaching hours per week, Monday – Friday with evenings and weekends free;




Working visa provided;




Medical insurance provided;



Contract period: 15th February 2020-January 2021.


About Beijing
A modern global megacity with three millennia of rich history, Beijing is both one of the oldest cities in the world and one of the world's leading centres for education, culture, innovation and technology.
Renowned for its opulent palaces, temples, parks, gardens and tombs, Beijing contains seven UNESCO World Heritage Sites; most notably the Great Wall of China and the grand Forbidden City complex - the imperial palace during the Ming and Qing dynasties.
With a vibrant city centre, Beijing is delivers all the benefits of living in a big city: experience Sanlitun's bar scene, taste authentic Chinese cuisine, scout street markets for hidden treasures, or shop for high-end brands in the largest mall in Asia. And yet - encircled by mountains capped by the meandering Great Wall of China - Beijing is perfectly poised to appreciate China's natural wonders: view cherry blossom blooming on the hillsides in spring, and watch autumn leaves turn vivid shades of orange and red in Beijing's many national parks.
The school is located in Changping District of Beijing, which is famed for its "Flower Seas".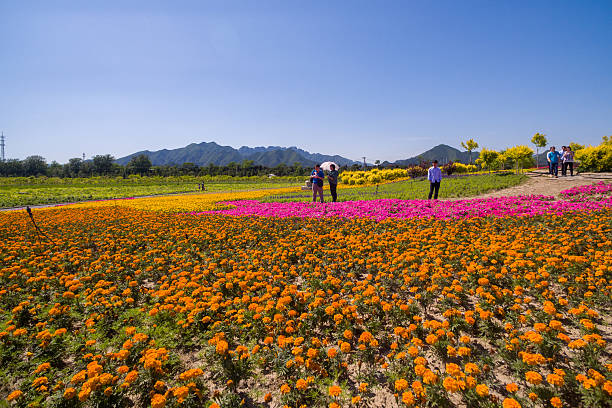 Teaching in a Public Primary School
With one month's holiday in winter and around two months' summer holiday, teaching in a Beijing public school leaves ample time for travelling and provides an high salary on which do so.
Your priority will be inspiring children to love English – so your classes will mainly consist of playing games, singing songs and reading stories. Your whole class will be taught in English, though you will have a Chinese teaching assistant with you to help with classroom management and give translations where necessary.
What We Do
After matching you to your school, we support you every step of the way with preparing your paperwork for the Chinese visa and work permit. Once you land, we'll pick you up from the airport and take you to the apartment provided by your school. From there, we'll help you with opening a Chinese bank account, getting a Chinese SIM and everything you need to settle in to your new life in China.
Before you start to work, we'll provide training and orientation. We'll give you Teaching plans and lesson materials you can use in your classes and introduce you to life in China and differences in workplace culture. Throughout your contract, you'll have an assigned bilingual case-handler who will be available to assist you with any issues you may have during your stay.
Requirements:



Native English speaker from UK, Ireland, USA, Canada, Australia, New Zealand or South Africa




Bachelor's degree (all subjects and classifications welcome)




ONE of the following:




- A degree in Education, Linguistics, English Literature or a related field




- A 120-hour TEFL/TESOL/CELTA qualification




- A teaching licence certifying you to teach in your home country



Candidates who can arrive closest to the mid-February start date are preferred.
Please send your CV to Beth at apply@nova-esl.com, stating which position you are applying for, or fill out the online application form at www.nova-esl.com/apply